I have been meaning to post about this, but never got to it before now. If you don't know me yet, you will come to learn that I am, as my husband puts it, one step away from being one of "THOSE" dog people. However, I don't think it is absurd to help someone save their beloved dog. This dog has a very treatable illness, but the treatments are costly. Please help Atlas get better!
Click Here to Help Atlas!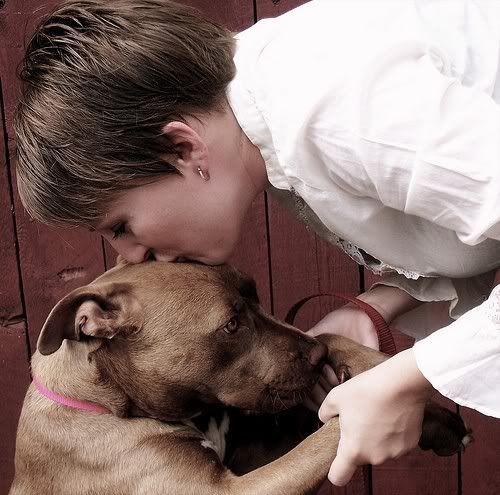 Text from the actual listing:
Our beautiful rescued pit bull Atlas was recently diagnosed with a transmissible venereal tumor (TVT). This type of tumor is rare in America, and the doctors think she was used as a breeder in a less developed country before she was dumped here in Los Angeles. TVT is highly responsive to chemotherapy, and Atlas has a great prognosis for full recovery. Unfortunately, each weekly chemo treatment costs $250, and we are struggling to pay for Atlas' care. If you would like to help save the life of a deserving dog, please purchase a handmade "Save Atlas" button; all proceeds will be donated directly to Atlas' medical bills. We appreciate your support!
Each button is rubber stamped with a loving pit bull face.
2 1/4
_____
If this listing has been sold, there are plenty more available.
I'm sure someone out there is going to have opinions which are anti-pit bull. Personally, I love them. But this is not the topic. The point of this is that we can help this dog which is loved by her family to have a better life. If you ever lost a pet, please help this from happening here any sooner than necessary.
Thank you for reading.